WEB DEVELOPMENT, WITHOUT THE STRINGS ATTACHED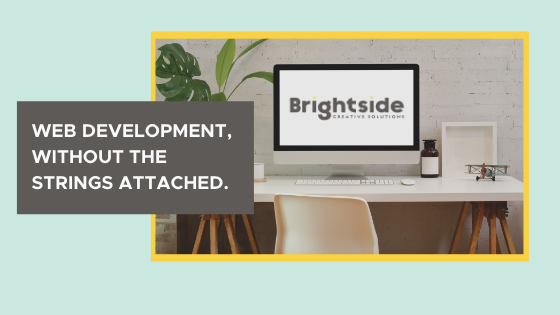 Stop us if any of the following scenarios sound familiar. Maybe you have experienced them or know of people who have –
The Ghost Developer
Your web developer built your website, that you love, but after a few months you need some edits. The developer won't answer your calls or emails! You are left high and dry.
The Poor Communicator Developer
Your web developer never answers your calls, takes days/weeks to get back to simple emails and never communicates their status on your website. Eventually, your website is completed but it took so long and was a very frustrating process leaving you asking yourself, was it worth it?
The Missing Pieces Developer
Your web developer finally lets you preview the website design, only to discover it was nothing like you discussed! It's missing pages and key content you requested early on too. Now they are charging you more for those changes, even though you tried to make sure you communicated this all upfront.
The Forced Monthly Retainer Developer
Your web developer built your website, but after a few months you need some edits. Your developer will only do them if you pay for an expensive monthly retainer. You don't want to agree to that, so they tell you to find someone else.
The Proprietary Code Developer
You find a different web developer to make edits to your website only to find out your previous developer custom coded it. Now the new developer is unable to effectively make changes to their code.
Does any of the above sound familiar?
We used several different examples in the above stories that we have heard over and over from our own client's experiences with their previous developers. They come to us hesitant because they assume we must be like them, and we love to prove them wrong! Recently, we were onboarding a new client, a referral, who asked us why his friend, who referred us, makes his own website updates. We were happy to tell him it was because he had someone on his staff who he wanted to make the updates, so we showed them how.
We build websites so that you can make changes on your own if you want to. Or you can have someone on your staff devote some of their time to making the updates. We know that you have a business to run and don't need to waste your time on basic changes to your website. Don't want to make the updates to your own website OR don't have anyone on your staff to do it? Then reach out to us, we will be upfront with the project price and get it done for you.
We are not hard to get a hold of either. You can email us and expect a response in a normal amount of time. Feel free to call and leave a voicemail and we will get back to you that way if you prefer as well. We have been operating our business since 2014 and don't plan on going anywhere. Our clients, past/present/future, are always a priority.