NEW BLOG SEGMENT – BRIGHT QUESTIONS
At Brightside, we are starting something new where we will ask you to give us all of your questions and we will pick one at a time and devote a whole blog to answering it!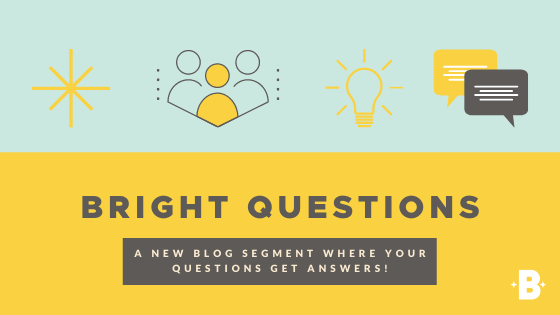 I realize that sometimes you have questions you may not want to ask us out of fear of not wanting us to know what you don't know. First, let me address that we have heard everything and are never judgmental about what you should and shouldn't know when it comes to the digital world. Anyone who makes you feel less then for not knowing, isn't worth asking the question too in the first place. We love to answer some obvious and not so obvious questions. They can be about anything really!
You may be wondering what type of questions you can ask
General questions
How did Brightside start? What type of services do we offer now? What lessons have I learned as a business owner? How is life going? What is something you enjoy doing in your free time? These are just examples but we would love to hear from you.
Branding questions
What are some does and don'ts of branding on a website? What should I consider when I create my branding? What should I consider if I am revamping my brand? Help, I don't even know what branding is!? We want to know what your biggest questions are, don't hold back!
Website questions
Honestly, what does a website do for my business anyway? After all, I have a Facebook account, that's enough right? Custom coding or a template, what should I go with when building my website? Who is even going to find my website and why does it matter? Dig deep here, we LOVE making the website process easier and more clear than it has been before for our clients. Let us help you, the community, get the same clarity.
Those are all just examples but don't let them limit your questions. We understand you may not want to ask your questions publicly so feel free to private message us or send us a message on our website! If you ask to remain anonymous, we will honor that! We will only display your name if you gave us direct permission. Brightside's owner, Holly Lane, will be answering each of these questions personally and will devote an entire blog to one question at a time. She will do her best to include resources, tools and takeaways to best help each one of you.