LOOKING TO CREATE WEBSITES FOR YOUR CLIENTS BUT WANT IT TO COME FROM YOUR AGENCY? WE CAN DO THAT.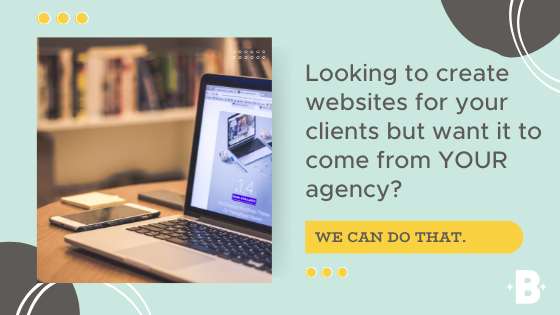 DID YOU KNOW? WE OFFER A SERVICE WE DON'T OFTEN TALK ABOUT.
But that's about to change. We want to tell you about something we do and a very specific type of client we offer services too.
At Brightside, we have been pretty quiet on social media and our blogs and there is a reason for that. We have been very busy offering a service we have not promoted until now…
Ghost Developing/White Labeling
I'm sure you have heard of ghost writing and this is pretty much the same but with web development. We work with a few small marketing agencies and SEO agencies who hire out for the work they don't offer in house. Some are very capable of web designing but just cannot take on the time commitment that web development entails, so they hire us.
We love this type of work! These agencies communicate clearly the type of work their clients need and we get to execute it for them. Most of the time we aren't even in contact with the client. Agencies like this because they can keep ALL contact with their clients and be in control of the relationship they have with them. We respect and honor their relationship with the client and do everything in our ability to help them be represented in the best light.
On occasion, one of these agencies will ask us to communicate directly with the client because of something technical they want us to explain and we have no problem doing that either. That's what is great about us being in the client relationship business too. We know how important client communication is and don't take it lightly. A lot of times web developers are just web developers. Client relationships are not something they excel in. At Brightside, we offer more than web development and our owner has a background in client management and project management. Both of which help her excel in setting expectations and communicating professionally.
So what does this mean for you?
If you or someone you know runs a marketing or SEO agency, we now have the ability for 1 or 2 more partnerships (depending on the client load of each agency). We are honest and upfront about our pricing. Once you give us the full project scope, we give you the final quote. We bill you directly and you can bill the client however you see fit. We work in a timely manner so you are never held up by waiting around for a simple project quote. We are also very clear about timelines and the status of a project.
Don't worry about being left high and dry by a web developer you hired on a whim for a project ever again! We take on full website developments, landing page developments, page edits, and more.
Give us a call and see if we would be a good fit for ghost developing for your agency!